Waiting on Wednesday is a weekly book meme hosted by Breaking the Spine where we all talk about a book we just can't wait to be released.
Lady Midnight by Cassandra Clare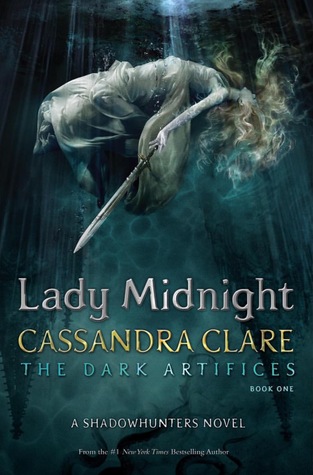 Blurb from Goodreads
The Shadowhunters of Los Angeles star in the first novel in Cassandra Clare's newest series, The Dark Artifices, a sequel to the internationally bestselling Mortal Instruments series.
Lady Midnight
is a Shadowhunters novel.
It's been five years since the events of City of Heavenly Fire that brought the Shadowhunters to the brink of oblivion. Emma Carstairs is no longer a child in mourning, but a young woman bent on discovering what killed her parents and avenging her losses.
Together with her parabatai Julian Blackthorn, Emma must learn to trust her head and her heart as she investigates a demonic plot that stretches across Los Angeles, from the Sunset Strip to the enchanted sea that pounds the beaches of Santa Monica. If only her heart didn't lead her in treacherous directions…
Making things even more complicated, Julian's brother Mark—who was captured by the faeries five years ago—has been returned as a bargaining chip. The faeries are desperate to find out who is murdering their kind—and they need the Shadowhunters' help to do it. But time works differently in faerie, so Mark has barely aged and doesn't recognize his family. Can he ever truly return to them? Will the faeries really allow it?
Glitz, glamours, and Shadowhunters abound in this heartrending opening to Cassandra Clare's Dark Artifices series.
Why can't I wait for this book?
I've read all of Clare's 'The Mortal Instruments' and 'The Infernal Devices' series, as well as a few of the short stories from the 'Tales from the Shadowhunter Academy' series (which are all going to be released in paper form soon!) and I've got to say, I love the universe Clare has made. Although there is the
current court case
regarding some aspects of plagiarism on Clare's part, I'm still looking forward to beginning the next series in the Shadowhunters Chronicles.
One of the main reasons is my rather large investment in the character of Mark Blackthorn (thank you tumblr) and his sister, Helen, who both had rather unhappy endings when the final page of City of Heavenly Fire passed. I can't wait to see what Clare has done to those characters and which directions they adventure in from where we last left them.
I do feel that Clare's strengths do lie within her minor characters, so I am a little more intrigued by their roles in our story, although I feel like Emma is going to be a strong character, with Julian as the one who's following her. My heart is torn, however, over the potential love triangle that may or may not happen between Julian, Emma and Cameron Ashdown. A part of me feels that Julian might be too hung up on the incidents in City of Heavenly Fire to consider falling in love with his parabatai, especially with all the responsibility that has been placed on his shoulders. I feel like he and Emma would do better as an Alec-Jace combo by ultimately sticking to a very strong friendship. Just because a guy and a girl are close, doesn't mean they have to fall in love.
I do have this book on pre-order, as I'm sure some of you do too, and am eagerly anticipating the 8th of March to receive this book through the post. What expectations of Lady Midnight do you all have?
Sophie